Isn't it just perfect, when imagination and hard work come together to build something amazing?
We've recently launched new branding assets for U-Smile Dental Club that have nothing but wholesome goodness!
With our in-depth experience in digital marketing for dentists, this brand-new dental clinic's owner came to us wanting a premium-looking and one-of-a-kind logo with a website that instantly lifts their position from the rest. And that is exactly what we delivered through. For U-Smile Dental Club, we created:
1. A custom-made logo and brand guidelines that you won't find in template designs
At 360 Dental Marketing, we pride ourselves on our exceptional results we present to our clients. Nobody understands the importance of staying ahead of the curve in a fast-paced digital world like we do, where trends and consumer preferences are constantly evolving. Our team is passionate about creating designs that feel fresh, innovative and captivating. We stay on top of all the latest design trends, industry best practices, and emerging technologies to ensure that our designs are not only visually stunning but also relevant and engaging. So, whether it's a website, logo, social media graphics, or print materials, we approach each project with an open-minded perspective, and love mixing and matching unique and creative elements that capture your attention and leave a lasting impression. We're all about delivering successful results – establishing a solid brand and making sure you stand out, loud and proud, to create a memorable impact on your target audience, among your competitors is what we care about.
2. A crisp, SEO and user-friendly website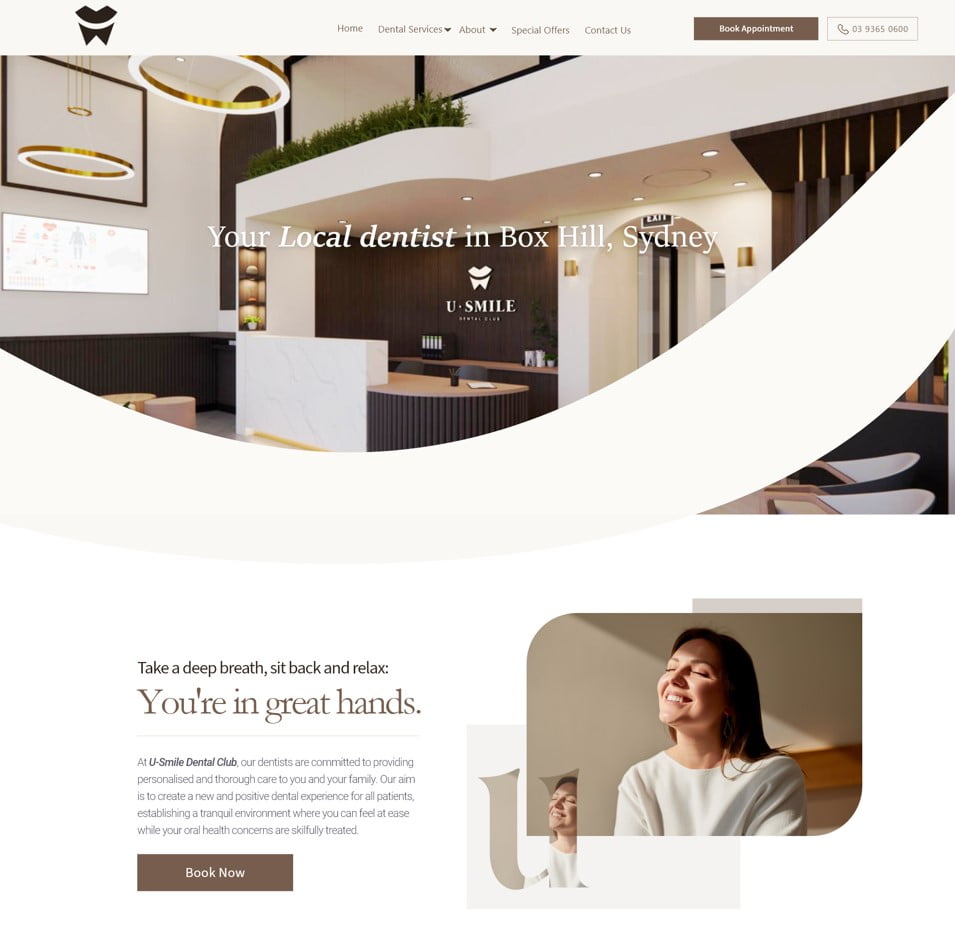 360 Dental Marketing is very well-versed in building crisp, SEO-friendly, and user-friendly websites that make a lasting impression on your prospective patients. With our digital world, we know that a dental website is the virtual storefront of your clinic so it's important for it to be neat, polished and professional.
We're well versed in the latest web design trends and techniques. Not only do our websites tick all the boxes for aesthetics, but we also focus on ensuring your website has a seamless user experience across devices. With a strong focus on SEO, we ensure that your website is optimised for search engines, helping you rank higher in search results and attract organic traffic. We pay attention to every detail, from responsive designs and intuitive navigation to compelling content and clear calls-to-action, all geared towards converting visitors into customers. Trust our dental marketing agency to build a website that not only represents your brand effectively but also drives traffic, engages users, and ultimately helps your business thrive in the digital landscape so you can fill up your books.
3. AHPRA-friendly content writing
Have peace of mind, knowing that your content not only meets regulatory requirements but also upholds the highest standards of integrity and professionalism with the help of 360 Dental Marketing. We ensure that your content meets the APHRA guidelines so you hit all the standards of professionalism, ethics and regulatory requirements. Transparency is key and so, we're committed to delivering accurate, reliable content for your patients. Our commitment to following AHPRA guidelines stems from a place of maintaining patient privacy and confidentiality, as we respect and uphold the trust placed in us by healthcare professionals and patients.
We are all pumped up now to drive new patients to this gorgeous clinic through our full-service dental marketing targeted for Australia, and we can't wait to see this clinic thrive with our help.
Being a trusted practice growth partner, we take care of it all so our clients can focus on where they shine.
If you feel that your practice could also benefit from dental marketing services, we're here to make it happen for you. Yes, we can help with boosting your dental practice and taking it to new heights! Our team at 360 Dental Marketing are experienced professionals who will work with you to develop a tailored marketing strategy that sets you up for success. We can bring more of your patients in and keep them coming back. See how we can take the weight of marketing off your shoulders so you can focus on what you do best. Don't miss out on the opportunity to stand out in the competitive dental market with the very best dental marketing agency.
Get in touch with us today to start your journey.