Both paid and organic posts on Facebook are a great idea for growing your dental practice. Facebook marketing in Melbourne, isn't as simple as a few clicks and it's done. It requires a mix of strategies to get the right balance and be seen by prospective patients.
Let's take a look at the ways you can improve your Facebook audience for your dental practice.
1. Geolocation targeting
This is probably one of the most successful ways to bring in new clients. Facebook's targeting is extremely precise and your can target with very high accuracy your local audience with paid ads. Many clients want a dental practice close to home in case of emergencies and frankly, who wants a long drive anywhere?
2. Try to target the age range of 25-40
Prospective clients between the age of 25-40 usually don't have a regular dentist and don't always keep up with their regular appointments. Targeting this age group can create loyal customers that can become lifetime clients. At the very least you will remind them that they need to go to the dentist and they will go to you!
3. Cosmetic dentists might find higher socio-economic areas successful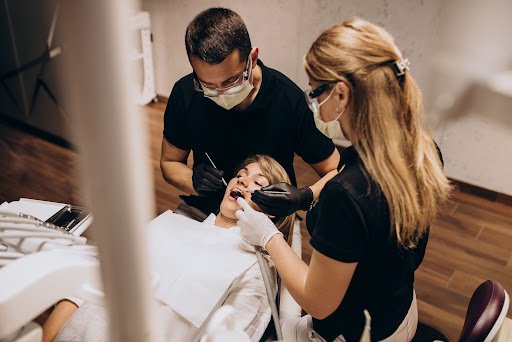 If your services are more on the cosmetic side most dental marketing agencies would recommend that you target higher socio-economic areas for your services. This does require local knowledge of the area you are targeting, however you should be quite successful.
4. Use interest related keywords
In your ad copy and hashtags make sure you use interest related targeted keywords. This is provided in Ad Targeting on Facebook. If you type in dentist when in this section it will display relevant words to mention and target. For instance, if you want to target families you can mention that your practice is a 'family dentist'.
It's very effective and you can boost your client base by using this simple trick.
5. Have a mix of paid and organic posts
To be successful on Facebook and get a good following you need to ensure your strategy has a mix of social posts that are organic and paid. Prospective patients can still find your posts organically.
How? Well, by using dental SEO tactics such as hashtags for easy discoverability. Hashtags are an extremely effective way of helping your customers find you.
Also by adding your location to your post means that Facebook can let your local patients know that you are nearby. It's a very effective way of letting people know you are there.
Paid ads are important, however many practices don't always have the budget for paid ads every week of the year. Choose your timing carefully and consult a dental marketing agency in Australia to help run your ads and look after any community management that may need to be performed.
Top Tip: look at the top-performing dental surgeries around you. Find out what they do differently. Do they have a dental marketing agency looking after them? Do they regularly post both paid and organic posts? Write down what they do and try to emulate their success.
Here at 360 Dental Marketing, we are a full-service dental marketing agency, our passion is making your dreams for your practice come true. Contact us to find out how we can turn your Facebook audience into clients in your surgery today!