In today's digital age, a designed dental website is essential for attracting and retaining patients. As more people turn to the internet to search for dental services, your website becomes the door into your practice. To make a lasting impression and effectively engage visitors, it's crucial to focus on key design elements. In this article, we will explore the five most important pages of dental website design in Australia, based on insights from our industry experts and best search engine optimisation (SEO) practices.
Home Page: The Virtual Front Door
The home page serves as the virtual front door of your dental practice in Australia. It should create an inviting and informative introduction that immediately captures visitors' attention. Incorporate high-quality visuals showcasing your practice, including images of your dental office, staff, and happy patients. Don't flood the homepage with unnecessary information, utilise concise messaging to highlight the unique aspects of your practice.
Example – Burnside Dental Practice & Implant Centre
Include a prominent call to action (CTA), such as "Book Your Appointment" or "Contact Us," to encourage visitors to take the next step towards dental care. Ensure there are links provided that lead directly to a separate "Contact Us" page beyond the menu bar alone and make sure it's easy for mobile device users to access. Spread contact details and booking links throughout the website.
Example – Ashton Avenue Dental
Dental Services: Providing Comprehensive Treatments
The services page is crucial for showcasing the range of treatments and procedures offered by your dental practice. Organise your services into clear categories, make it easy to access separate, more detailed pages for all your services such as general dentistry, cosmetic dentistry, orthodontics, and more.
Example – Ashton Avenue Dental
Provide detailed descriptions for each treatment, emphasising the benefits and outcomes patients can expect. Incorporate relevant keywords and location specific terms to improve your search engine rankings. This will help potential patients in Australia find your website when searching for specific dental services.
Example – Maddingley Dental Care
Services Offered: What Makes Your Practice Stand Out?
When describing each service, focus on the uniqueness of your practice, what sets your practice apart from others. Highlight any advanced technologies, specialist services, or personalised approach offered by your practice. Use understandable and clear language to explain the procedures offered, its benefits, and how it can improve the patient's oral health or appearance. Before and after photos are something to consider to showcase transformative results.
About Us: Meet Our Experienced Team
The about us page facilitates trust and allows you to connect with potential dental clients in Australia. Share your practice's history, mission, and values. Introduce your team of dental professionals and highlight their qualifications, expertise, and commitment to patient care. Include brief bios and professional photos of your team members, showcasing their friendly faces and creating a sense of familiarity.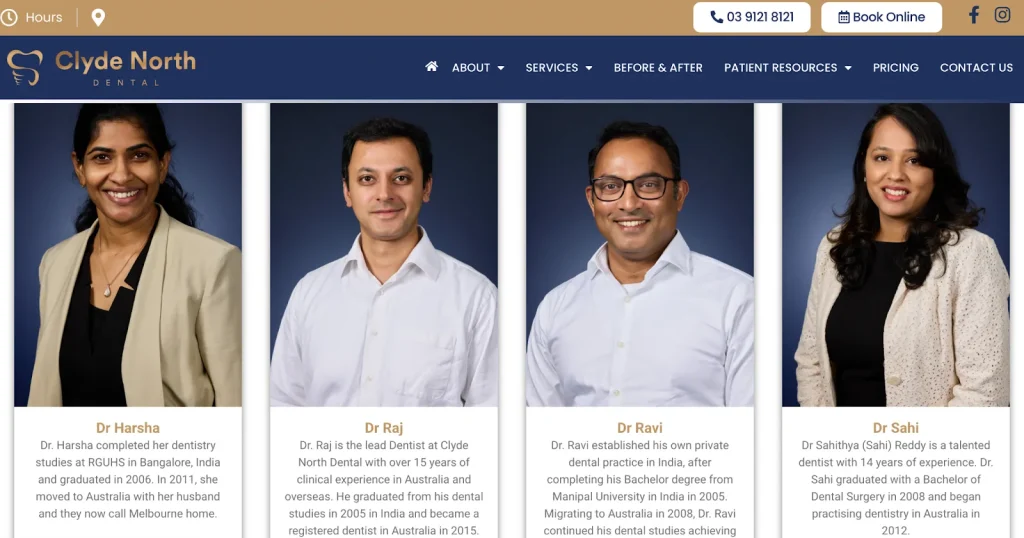 Example – Clyde North Dental
In addition to introducing your team, emphasise what sets your dental practice apart. Highlight any unique training, certifications, or specialisations your dentists possess. Showcase any awards or recognitions your practice has received.
Consider including testimonials from patients or industry organisations that highlight the expertise and exceptional care provided by your team. This helps build trust and confidence in prospective patients when considering your practice for their dental needs.
Payment Methods: Convenient Options for Seamless Transactions
Including a section on payment methods is vital for providing transparency and convenience for prospective patients visiting your dental website in Australia. Clearly outline the accepted payment methods, such as major credit cards, debit cards, cash, and insurance plans. If your practice offers flexible financing options, make sure to highlight it. This information will help patients alleviate any concerns they may have regarding payment. By providing clear information about payment methods, you demonstrate your commitment to ensuring a smooth experience for your patients throughout their dental journey, allowing them to focus on their dental care.
Example – Maddingley Dental Care
Transparency
Including a dedicated section about payment methods on your website showcases your practice's commitment to transparency and patient convenience. It helps potential patients understand their payment options upfront, reducing any uncertainty or stress associated with the financial aspect of dental care. This transparency also builds trust and reassures patients that you are a reputable and professional dental practice.
Contact Us: Get in Touch with Our Friendly Dental Team
The contact page is a vital component of your dental website design in Australia. Make it easy for visitors to reach out to your practice. Display your contact information prominently, including phone numbers, email addresses, and practice address. Incorporate a user friendly contact form for inquiries or appointment requests. Additionally, provide clear directions or a map to your dental practice, making it convenient for patients to find you.
Multiple Contact Options
Make it easy for the user, include multiple contact options, such as a phone number, email address, and an online contact form. Ensure that your contact form is easy to fill out and submit, and try using optional fields for patients to provide additional information, such as preferred appointment dates or specific dental concerns.
Example – Ashton Avenue Dental
General Advice: Striving for Success
While the five pages discussed above are crucial for a successful dental website design in Australia, it's important to remember that the digital landscape is constantly evolving. Regularly monitor your website's analytics and make changes accordingly. Include any other relevant content to your dental practice including blog sections and FAQs pages. Make sure your website is well formatted so it's easy to navigate on all platforms, especially on a mobile device.
Location and Opening Hours
Ensure to have an easily visible address and provide clear opening hours. Make it a convenient experience for your patients. Have a map embedded into the website to provide an easy reference point and directions for users. Include any variations in opening hours day to day and on public holidays.
Example – Burnside Dental Practice & Implant Centre
Special Offers
Make sure that any special offers from the practice are readily available and convenient to access. Emphasise why the special offers are unique and beneficial to Australians.
Conclusion
Crafting an effective dental website design in Australia requires careful attention to key pages that shape visitors' perception of your practice. By creating an engaging home page, informative services page, trustworthy about us page, persuasive testimonials page, and user-friendly contact page, you can establish a strong online presence and attract new patients in Australia.
Collaborating with experienced dental website developers in Australia ensures your website meets industry standards and effectively communicates your value proposition. Regularly update and optimise your website to stay ahead in the competitive dental market and deliver an exceptional online experience for your patients.