If you run a dental practice and want to grow your patient list and increase appointments, there are a few different ways to get there. Industry seminars and webinars tend to emphasise planning strategies like writing to-do lists which is useful in business but can be overwhelming in a practice setting where you're already managing endless lists and administrative details. What works well for any practice is using your team and resources effectively. Here's how to do that in just five easy steps:
1. Stop trying to do everything
Give yourself a break. Trying to micro-manage your dental practice is not only inefficient but can leave you overly stressed which can seriously impact your own performance as a manager or dentist. Dental Marketing and communications goals like increasing dental appointments is not something that you should be trying to tackle alone, you need to accept this before moving to the next step.
2. Focus on creating a supportive and skilled team
Now you've freed yourself from the expectation of handling this alone, you can invest your energy into creating a supportive team to help you. Start by ensuring that you are very familiar with the skillset of your existing staff, so that when you are hiring new team members or partners you know what new skills you are looking for. Expertise and reliability are equally important traits every staff member should have as you want to be able to trust your team when delegating specific tasks.
3. Delegate tasks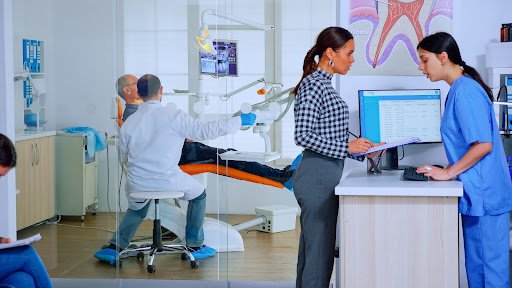 The right staff and professionals you partner with should be people you can trust to deliver important tasks. Once you've established your internal team and partnered with dedicated professionals where needed, for example, a dental marketing expert, you can be confident when delegating tasks.
Video: How to use teams to increase appointments
4. Build your practice brand
Maintaining a busy appointment schedule requires working on your practice brand so that you don't just acquire new one-off clients but delight them with a high-quality care experience that they are happy to share with others. This begins with maintaining high professional standards in your practice at all times and fulfilling your patients' needs. Brand-building can then take place by focusing on customer interactions and promoting engagement by encouraging the following:
Social Media Check-In
Encourage patients to check in to your location on social media which will increase the visibility of your practice to their networks of family and friends. You can do this by offering a discount promotion or free gifts like toothpaste or toothbrushes.

Google Reviews
People rely on reviews to choose services now more than ever, so definitely promoting patient reviews in your practice. Reviews share your patients' journey, help create referrals and also add to your website's organic content and can increase your search ranking on Google.

Before/After Photos
The simplest yet most effective way to give people an idea of your patients' experience/journeys in one second is with a before and after photo on social media and your website. This will get the attention of anyone interested in achieving the same dental treatment results.
5. Stay consistent with weekly target
It's common for practices (and any business) to start strong with their marketing strategy, share a lot of content online for a few weeks and then fall into a no-posting slump after losing momentum. This is why setting targets is important. Do not stress about quantity, staying consistent by meeting achievable weekly targets is way more worthwhile.
Video: How to use your teams and resources to build your practice brand

These tips can be implemented immediately by communicating with your staff. You can ask reception or anyone that has direct contact with patients to mention leaving reviews or check-ins and dentists can take before/after photos after some treatments (always ask for the patient's consent before sharing). If you are interested in learning more about using dental marketing to increase appointments and building a practice brand, contact 360° Dental Marketing in Melbourne today for expert advice.