Has your Google Analytics been migrated to the latest version – GA4?
It's been the go-to tool for businesses and marketers to gain an insight into their website performance. And, it can definitely help your dental practice as well! Google Analytics is well known as a free Google tool that tracks your dental website's overall performance, user behaviour and helps you understand what's working (and what's not been working!) with appointment generation. 
But, we're seeing an evolution, a new generation of website insights! The recent migration to this new version of Google Analytics, GA4, has actually been made mandatory! This is so you don't lose the valuable insights that can help improve your online enquiries and appointment generation. At 360 Dental Marketing, efficiency is super important to us. We've jumped on board of GA4, as it is a great tool to use when marketing for dentists! We highly recommend talking to your SEO manager to ensure it has been properly set up. The benefits are quite shiny with GA4!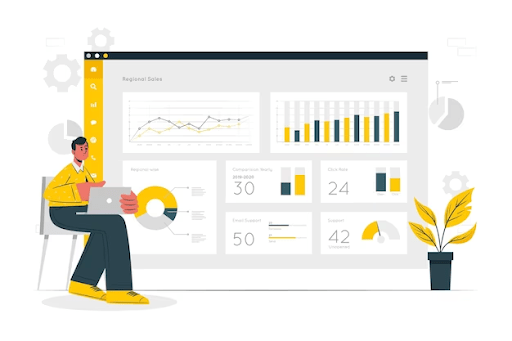 So, what happens after the proper GA4 Complete Migration?
GA4 is equipped with benefits to help your practice's dental marketing. These include:
Seamless tracking of the user's every journey across their multiple devices means you can easily see your prospective patient's full journey regardless of the browsing devices they use.
If you are running Google Ads, the integration feature with Google Ads allows you to track the user's journey and behaviour, giving more insight on their click to conversion journey, budget optimisation and better ROI measurement.
An intuitive data reporting system means you won't have to comb through the SEO jargon. You can simply log in and interpret key metrics without needing complex configurations. Simple!
It's the latest one from Google so it goes without saying, with the direction of the digital world, that it is AI-driven. AI can predict the future user's trends and conversion probabilities before it actually happens, which is extremely useful for your practice to gain an insight into a prospective patient.
Your data will have improved accuracy and privacy as it reduces data gaps caused by ad blockers, privacy settings or cross-device usage. Additionally, GA4 incorporates privacy-centric features, ensuring that you're still complying with the necessary data protection regulations and provides users with more control over their data.
Well, what can you do with this information?
This analytical data is brilliant for helping you understand:
What's actually working (and what isn't!) with your dental website, dental SEO and other marketing so you can tell if you're right on track or whether you need some improvement in areas
The most popular services (by number of page views and search queries)
If your marketing efforts and website flow is helping users to easily take action
areas to improve your online enquiry/appointment numbers based on historical data and predictions
The best ways to allocate your marketing resources for targeting an audience with better chances of conversion/ROI.
What are the key features of GA4?
Event-driven Data Model
GA4 introduces an event-driven data model instead of session-driven, allowing you to define and track custom events based on user interactions. It's flexible enough that businesses are able to measure specific actions that align with their unique goals, such as form submissions, video views, or purchases. By focusing on events, GA4 provides a more granular analysis of user engagement.
Machine Learning Insights
GA4 leverages Google's powerful machine learning capabilities to automatically uncover valuable insights from your data. From predicting user churn to identifying high-value customer segments, these AI-powered insights empower marketers to make data-backed decisions. With GA4, you can optimize your dental marketing strategies.
Streamlined Reporting
GA4 offers a simplified reporting interface that focuses on essential metrics and provides intuitive data visualization. The new interface allows for easy exploration of data, creating custom reports, and sharing insights with stakeholders.
At 360 Dental Marketing, we believe that what gets measured gets improved. That is why we don't just send off our reports, but make sure our clients understand what the data is portraying and ensure that we all discuss together the very best next steps for your practice. 
With GA4, it's been described as a new era of website analytics has arrived!
If you are doubtful of your digital marketing performance or are simply not happy with your current performance, we highly recommend checking your analytics or getting in touch with us, here at 360 Dental Marketing to explore the dental marketing services we offer for your practice's growth. Choose the best dental marketing agency out there. Call us at 1300 777 847.