The most popular search engine in the world is Google, so it's not a surprise that Google reviews are one of the key players when it comes to having online reviews.
Search engines like Google understand the significance of providing its users (your prospective patients) with quality websites.
Meaning to say, if your website has lots of 4 and 5-star reviews, Google search engines recognise your positive online reputation, as a result, your website will rank higher on their search pages.
Start collecting good Google reviews especially if you are new in dental practice.
*91% of Google's users don't go further than the first page of Google, so you need to ensure you're on it.*
*According to APRA (Australian Prudential Regulation Authority) guidelines ,unlike other businesses, medical companies are restricted from displaying reviews or testimonials for marketing and advertising on their websites. Thus, Google reviews are the most authorised source of information these days
Reviews are a form of "social proof." Social proof is a psychological and social phenomenon in which people copy the actions of others to reflect what is considered "correct" behaviour.
– Wikipedia.
Think about this -. You probably read reviews yourself, before you purchase something from an online store, it's the first thing you check right?
This also applies to your practice as well. While you're running your dental practice, managing the day-to-day operations, dealing with patients and learning new procedures, you may also want to start gathering online reviews for your practice.You would be interested to know that more patients are using Google review to research for healthcare providers.
When it comes to choosing a new dentist, reviews are more important than ever. Understandably, people aren't willing to gamble on their dentist or doctor the same way they might be willing to roll the dice with a restaurant. New patients want to be reassured that you're a competent, caring dentist before they call to schedule their first appointment. Reviews provide that peace of mind to the patients and are also the foundation in building a solid reputation.
If your online reviews are positive, it helps build brand trust for your practice with new and existing patients. It is an essential part of increasing your overall dental website ranking on search engines. The higher your website ranks, the more visitors, traffic, your website receives.
The big question now is how do you get more Google reviews for your practice?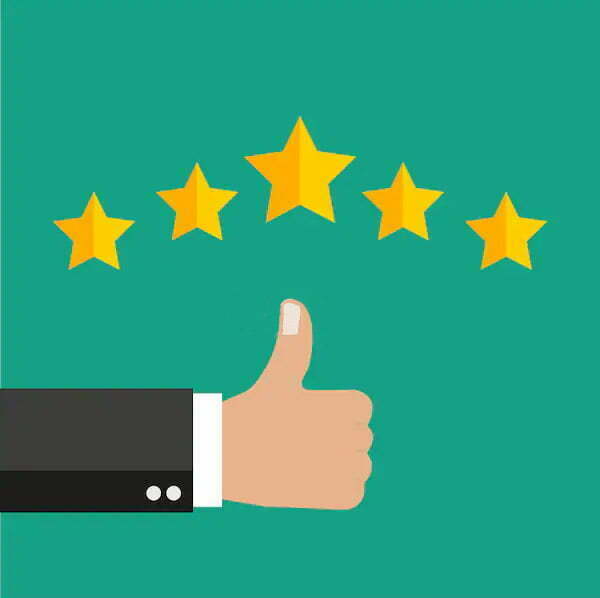 Ask Patients – The easiest way to get more Google reviews is to ask your patients to leave a dental review. If you want to have Google reviews, all you have to do is to ASK them. 🙂 Believe it or not, most of your patients will leave you a review if you asked one.
Do it every time you finish an appointment with a happy patient, kindly ask them to go online and leave you a review!
Follow-up emails – If you're not asking in person, then you may want to design or have a system that sends your patients a follow-up email right after they've visited your practice, asking them to leave you a Google review while their experience is still fresh in mind. 🙂
Review link – Another easiest way to ask for a Google review is to add a review link on your dental website. Simply add a review link to your website or create a custom review link. To Generate your Google review link, you need to create a direct link to your Google My Business review window.
It can be accomplished in a couple of ways. Here are the instructions to create a review link within Google itself:
Go to the Google Places API.
Enter your business name in the "Enter a location" field at the top of the map.
Click your business name in the list that appears.
Your Place ID will appear on the map, beneath your business name.
Add your Place ID to the following URL after the equals sign to create your link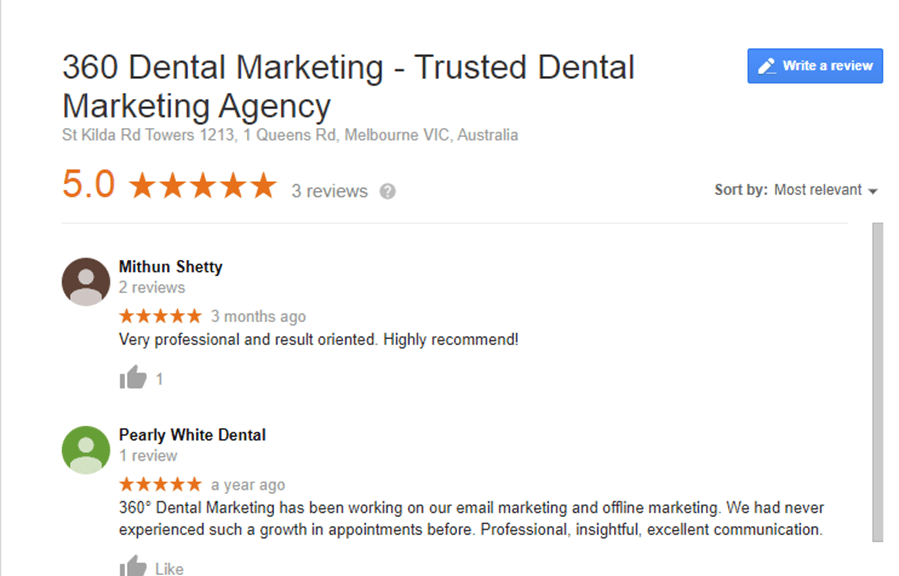 Call To Actions – Add call-to-action on your dental website, you can do it by adding a small pop-up encouraging the user to leave a review. Say something like, "If you have a few minutes, please share your experience with 360 Dental Marketing (Your Business Name).We would highly appreciate it.
Customer service – If a patient is blown away with the services you've provided, or the experience they had with your business, it will be easy for them to give you a good review. Provide great customer service and you'll see good reviews coming your way. 🙂
Get more Google Reviews for your dental practice
Positive reviews are critical in obtaining new dental patients. It can boost the credibility of your dental practice and it builds trust.
If your dental practice is looking to improve its online reputation and gain new patients, BOOK YOUR FREE 30 MINUTES CONSULTATION with 360° Dental Marketing today.
At 360° Dental Marketing, our highly qualified and trained in-house team uses the 3D's solution (Discover, Design, Develop) to ensure your dental practice increases revenue, attracts new patients and improves profits.