Getting new patient leads is not enough these days… they must be quality. Quality patient leads can come with a few steps and you can expect to see a 20-30% increase in leads in just 90 days. Here's how:
Focus on Market Research
Market research is the first place you should begin and it is one of the most crucial steps to growing your practice. Market research is important for many different reasons:
Helps to easily spot business opportunities
Reveals information about your target market
Identifies where to advertise
Helps to set your business goals
Without any of this information, it is impossible to set up a dental marketing strategy for your practice.
SEO
It's no secret that dental SEO is one of the easiest ways to increase your quality dental patients leads.
Using key words on your website and in your content such as blogs is key for being ranked higher on search engine results and therefore being found by potential new patients.
Other ways you can improve your SEO include:
Creating a GMB
Advertising locally
Requesting patient reviews
Internal linking on your webpages
User Experience Optimisation
User experience optimisation is not just critical for increasing your leads but also increasing your retention. When you optimise your dental web design, you make the experience easier and less frustrating for the user which can decrease the bounce rate from your website.
Ways to improve user experience optimisation include:
Make you website mobile friendly
Make your call to action clear and easy to follow
Only include relevant information on your website
Categorise your webpages with easy to follow subheadings
Local Awareness Dental Ads
With consumers demanding more convenience this comes with consumers being less likely to travel far for services including dental. Therefore it's important to localise your paid Facebook Ads and Google Ads.
When you localise your paid ads and create a GMB, your practice will be easily visible to those searching for dental practices or dental services in your area. This means more exposure and quality dental patient leads for your practice.
Localising your paid ads also reduces your ad spend because you are not advertising to those who are extremely unlikely to be a potential patient of yours.
Brand Building
Brand building is beneficial for getting quality dental patient leads for many reasons:
Helps build trust with your clients
Helps build client loyalty
Helps communicate your brand values
All of these things are important for increasing your quality patient leads. A direct result from increasing your client loyalty and building trust with your existing clients is referrals, which means more quality dental patient leads for your practice.
Social Media Marketing
With most people being present on social media these days, it's the perfect place to make connections and reach your target audience.
Social media marketing is also relatively low cost and allows you to view insights about your audience and reach new customers.
Results:
Here's a case study from one of our own clients Jacobson Dental Clinic which demonstrates how by using some of these strategies such as local ads, optimising your website, utilising SEO, and branding building you are able to significantly increase your patient leads.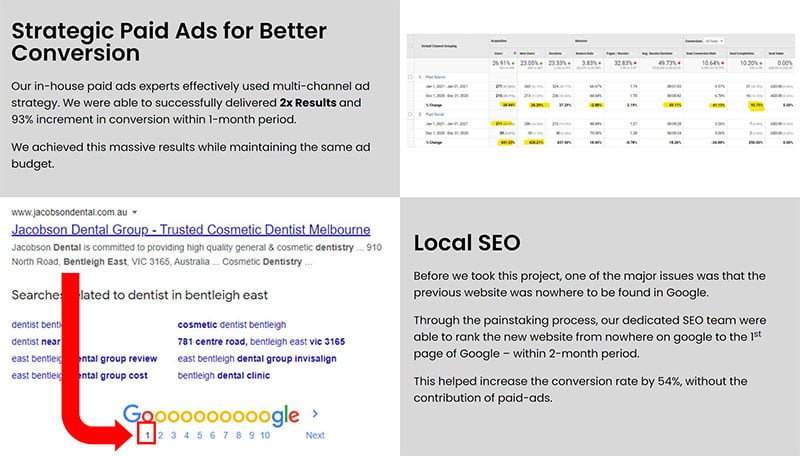 To read more about our journey with Jacobson Dental Group click here.
We understand that you are busy and that's why we are here to help! We guarantee a 20-30% increase in leads in just 90 days.
If you are interested, book a FREE 30-minute consultation with us here.